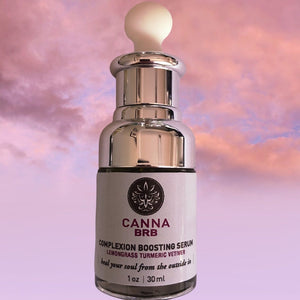 Organic, solvent-free, cannabis infused anti-aging serum , including vitamin E & turmeric extract, to effectively target visible signs of aging.  Firms and visibly reduces the look of fine lines and wrinkles.  Improves radiance, evens dark spots and skin tone while reducing the appearance of pores.   Benefiting ages, all skin types, even sensitive skin.
Use 3-5 drops in hand.  Apply in an upward motion, sweep up the neck, and gently up around your facial features.
Safe around eyes, nose, and lips.
Ingredients:
Cannabis infused Jojoba Oil
Cannabis infused Almond Oil
Rosehip Oil
Red Raspberry Seed Oil
Oat Hydrolysate
Isopropyl Myristate
Honeyquat
Rosemary Oleoresin Extract
Cocoa BioFerment
Vitamin E
Essential Oils
 (Lemongrass, Vetiver, Turmeric) <2% dilution