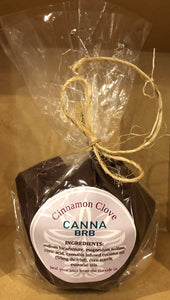 Cannabis infused body relaxation bomb. Immerse yourself for a full body relaxation experience. Muscles, joints, skin, and sleep will all be affected and relieved after a 20-minute soak. A calm, soothing experience from bath to bed, Canna BRB body relaxation bombs are:
organically, sun grown cannabis, infused into organic coconut oil.

artisan made

dye free

therapeutic grade/certified organic essential oils

4.5oz ~ 1:1 Multi Cultivar, Wholeplant Cannabinoid/Terpene Content

Cinnamon Essential Oil is reputed to calm dry skin, effectively alleviate aches, pains, and stiffness in the muscles and joints, address acne, rashes, and infections, enhance circulation, nourish the skin, slow the look of aging, and revive the skin tone
Clove Essential Oil has been used for easing digestive upset, relieving pain, and helping with respiratory conditions. Research has found that Clove Essential Oil may have benefits for topical applications, for treating infections, and even fighting cancer.